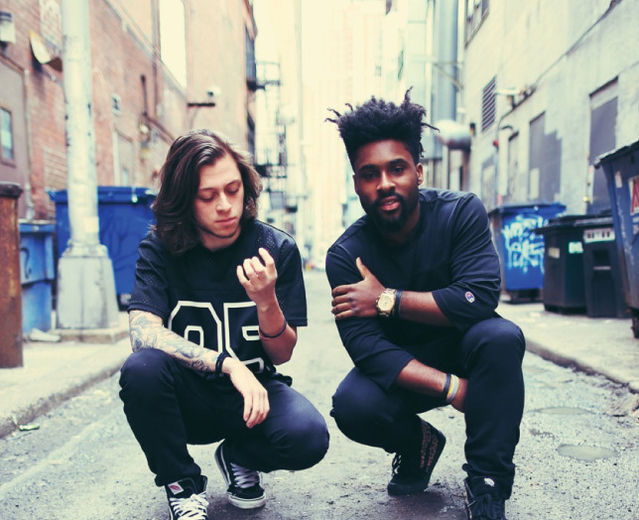 On the 15th, I had the opportunity to see OCD: Moosh & Twist perform at Santo's Party House along with some of the Big Picture Media team here in NYC. I've known OCD for a couple of years now, and I've seen them 2.5 times previous to this show. The .5 comes from when I went down to Philly to see their hometown show about two years ago, and 2 songs in, someone pulled the fire alarm and the show was evacuated and then cancelled. Let me just say that this show went down much more smoothly than that.
I normally prefer Philly venues to NYC venues, but Santo's was a pretty good fit, in my opinion, for OCD. At one point, Moosh even mentioned that the fans could make a small venue feel like Madison Square Garden. The capacity downstairs is 300 people and they didn't seem to hit much trouble filling it up. By 10:15pm, things were in full swing. The tallest people in the venue seemed to have a magnetic pull to the area directly in front of me wherever I went, so I had to move around a bit to get the best view. Their set list was a nice mix of old and new, ending off with their song All That I Know. The entire time, people were jumping, singing along, and having an all around great time.
One of my favorite things about seeing them live is how genuinely happy they are while they're on stage. Being best friends since they were six years old and doing what they love can definitely do that. Several times during the show, they mentioned how they're blood brothers and best friends since the second grade. Not many people are lucky enough to say that and really mean it.
The only downside I experienced in the venue was the 3 drink minimum on cards. Now, for a full show, I can see that, but 3 drinks during a 45 minute set probably isn't the best idea. Regardless, I had a great time and would definitely go back to the venue and see the guys perform again.
Three of their albums are available for download on their website and their latest release, Living Out Loud, is available now on iTunes. It is definitely worth the purchase, so get on that.
For those of you living in Europe, you will have your chance to catch OCD this fall! They'll be heading everywhere from the UK to Germany, so make sure you get your tickets while you still can.
EUROPE TOUR DATES
November 28th. Stockholm, Sweden – Scandic Grand Central
November 29th. Oslo, Norway – Sawol
December 1st. Copenhagen, Denmark. Imperial Bar (Vega)
December 3rd. Berlin, Germany – Prince Charles
December 4th. Antwerp, Belgium – Trix
December 5th. Paris, France – Les Etoiles
December 6th. Amsterdam, Netherlands – Paradiso
December 8th. Bristol, UK – Marble Factory
December 9th. Glasgow, UK – King Tuts
December 10th. Manchester, UK – Club Academy
December 11th. London, UK – XOYO
December 12th. Birmingham, UK – Library
For more information on OCD:
Website
Moosh's Twitter
Twist's Twitter
OCD's Twitter
Facebook
YouTube